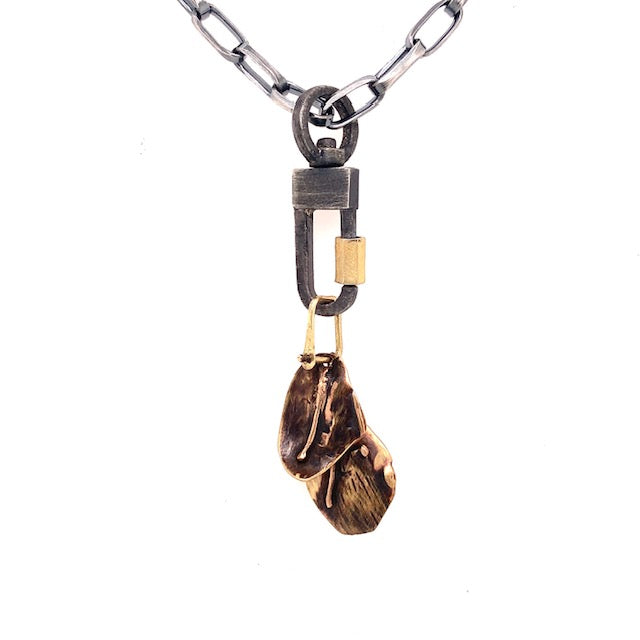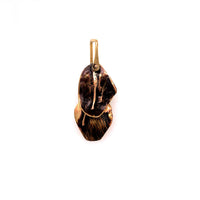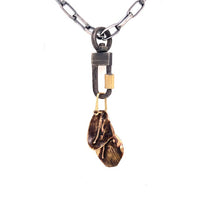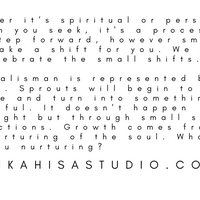 Whether it's spiritual or personal growth you seek, it's a process. One step forward, however small, can make a shift for you. We need to celebrate the small shifts.

This Talisman is represented by leaves. Sprouts will begin to emerge and turn into something beautiful. It doesn't happen overnight but through small steps and actions. Growth comes from the nurturing of the soul. What are you nurturing?
Overall pendant is approximately 3/4" long and 1/2" wide on a 1/2" long bail


Pendant consists of two independent components layered to create beautiful movement. One component is directly attached to bail, the other has a 1/4" long oxidized sterling silver chain attached to the bail.

Oxidized, textured brass

Each Talisman is handmade in our Seattle Studio and will slightly vary in size, texture, and color

Listing is for the Nurture Talisman only. Does not include chain or connector.

Can be worn directly on our Oxidized Silver or Flat Curb Sterling Talisman Chains. Can also be worn on any Chikahisa Studio Talisman Connector.

Each is signed and comes with an authenticity card
We want you to love your Chikahisa Studio pieces. If you aren't absolutely thrilled, you can return the piece within 14 days.  Read here for full shop policies.
In stock items will be shipped within 5-7 business days. For out of stock items, it generally takes 2-4 weeks.
Have a question?Contact ushereand we'll get back to you within 24-48 hours.
Beautiful
I wasn't expecting the two pieces to be so delicate and gorgeous. So much so that the next week I bought another lock for a friends birthday !!
Lock Connector
Love it! Engineered perfectly
had to get the gold too!
I had ordered the silver clip and loved it so much I HAD to get the gold one. these clips are beautifully crafted and engineered. I wear my silver one 24/7 - to sleep, in the shower, working and it continues to look amazing
Bloom - my talisman that reminds me every day of my journey!
My bloom talisman is a beautiful reminder that we all should be on a quest to be our best selves...to "bloom" in our individual worlds and bring beauty to those around us....
Love love love.
I loved this necklace from when I received it. I have ordered extra paper lip connectors to lengthen if I needed to.