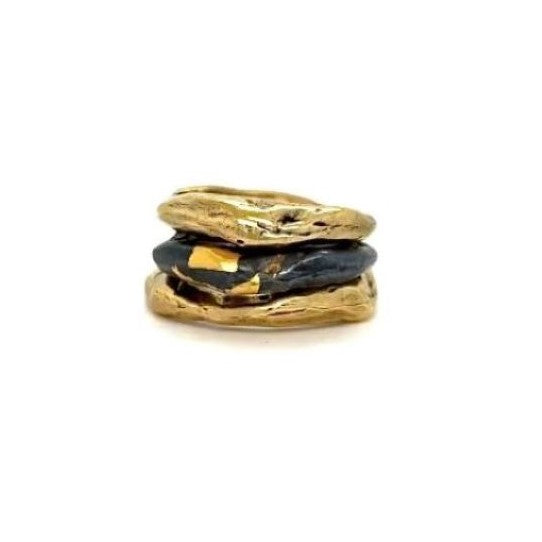 Alchemist Stacking Rings Combination 3
Combination 3
The Alchemist Ring Stack is the ultimate symbol of effortless style and artisanal craftsmanship. There's an ease you feel when you put on the Alchemist Ring Stack. It's like putting on the jeans you've had forever & will never part with.

Each Ring is meticulously crafted with wabi-sabi intention, using only the finest precious metals. We use the ancient lost wax casting technique imbuing it with its own character and soulful imperfections that make it truly one of a kind.
Look no further than the Alchemist Ring Stack and discover the magic of wabi-sabi beauty for yourself!
Details:

Rings are first hand-carved in wax and then cast in metal

This stack features 2 bronze and 1 oxidized silver with 18kt gold accents

Due to the hand application of gold each ring pattern is unique
The touch of gold represents success at everything you do

The stacking rings when worn together measure between 3/8 and 1/2". Since they aren't perfectly round, the width can vary. When you measure your finger from the base to the knuckle, if it's at least 3/4", you'll have enough room to wear them comfortably.

Fit is true to size

Each piece is handmade in the USA

All of our jewelry comes beautifully packaged and ready to give
Ring Sizing:
Want to know your ring size?  Add an easy to use ring sizer to your order.
We want you to love your Chikahisa Studio pieces. If you aren't absolutely thrilled, you can return the piece within 14 days.  Read here for full shop policies.
In stock items will be shipped within 5-7 business days. For out of stock items, it generally takes 2-4 weeks.
Have a question?Contact ushereand we'll get back to you within 24-48 hours.